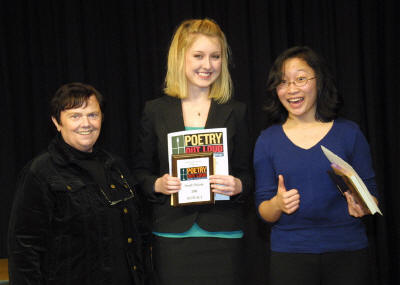 As the first place winner, Vande Vegte received a $200 cash prize
and an all-expenses-paid trip to Washington, DC, to compete in the National Finals on April 29, 2008. Her school, Lincoln High, received a $500 stipend for the purchase of poetry books. Runner-up Sun received $100; Vermillion High School was given $200 for its school library.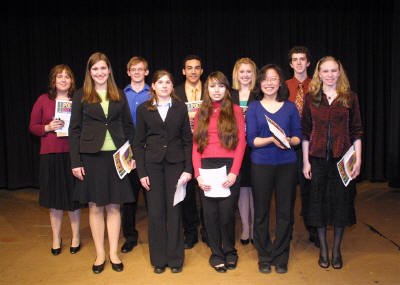 Ten students qualified for the state event by participating in a preliminary competition. During the state contest, each of these students recited 2 poems.
 
 
 
 

The six students with the highest scores advanced to a third round. Cumulative points from all three rounds determined final placements.
Other students winning honorable mention awards at the statewide competition were Devon Cadwell from Bon Homme High School; Miranda Glover from Lead-Deadwood High School; Caleb Olson of Centerville; and Megan Yellow Boy of Little Wound School in Kyle. Rounding out the list of finalists were Matthew Allison from Riggs High School in Pierre; Casey Alsaker from Rosholt; Janelle Bakke of Watertown; and Justine Scarbrough from Brookings.  
A distinguished panel of SD poets and a theater professional were judges for the event:
David Allan Evans, South Dakota Poet Laureate; Ray Peterson, SDSU Theatre Department; and Allison Hedge Coke, award-winning poet and University of Nebraska faculty member.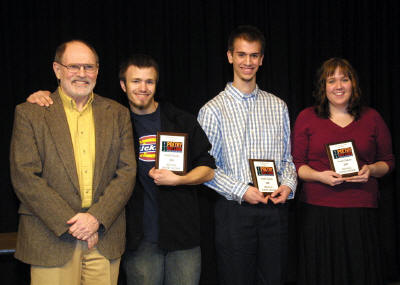 A contest was held for the first time in 2008 for students writing original poetry.

The three state winners were: Dale Frewaldt - Madison HS,
Jacob Plette - Vermillion HS, and Janelle Bakke - Watertown HS.
They are pictured with state poet laureate David Allan Evans.

"This competition is a wonderful way to introduce the arts to high school students across the state," said Richard Benda, secretary, Department of Tourism and State Development.
"One of the goals of the state's 2010 Initiative is to enhance arts and history as essential to lifelong learning and I think this competition does just that."

Links
Poetry Out Loud Presentation by Rosella Blunk

Poetry Out Loud Site

South Dakota Arts Council

National Endowment for the Arts
Contact the state coordinator Rosella Blunk (rosieblunk@yahoo.com) if you would like to participate or learn more about this contest.
SD Poetry Out Loud Archives
2006 Poetry Out Loud

2007 Poetry Out Loud

2008 Poetry Out Loud

2009 Poetry Out Loud