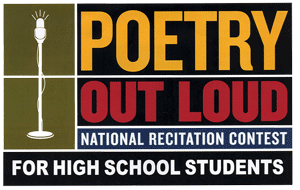 2009 Poetry Out Loud - Poetry Out Loud is a nationwide poetry competition for high school students initiated and supported by the National Endowment for the Arts and the Poetry Foundation. South Dakota Arts Council, South Dakotans for the Arts and South Dakota Public Broadcasting are statewide sponsors of the event.
2009 State Program   SDPB Dakota Digest story

During 2009, more than $100,000 was awarded in scholarships to students and grants to schools at state and national levels. These awards include a $20,000 scholarship to the national champion as well as other substantial prizes to finalists in the national competition.
In 2009, the 1st place winner in the Memorized Poetry was Wiyaka His Horse is Thunder from Little Wound High School in Kyle SD. Her coach is Daniel Snethen. Adrielle Munger from Sioux Falls Lincoln HS won 2nd place. Her coach is Bryan Hagg.
South Dakota is the only state that has placed a student in the finals all 3 years of national competition. In 2006, Kayla Jackmon was in the top 12. In 2007, Janessa Nickell was in the top 5 and in 2008, Elsa VandeVegte was also in the top 5.


1st place winner: Wiyaka His Horse is Thunder, Little Wound High School


2nd place winner: Adrielle Munger, Sioux Falls Lincoln High School

| | |
| --- | --- |
| April Sun | Kama Konda |
| Laura Carver | Maria Niechwiadowicz |
| Mo Hurley | Stacy Burkhalter |

Links
Poetry Out Loud Presentation by Rosella Blunk

Poetry Out Loud Site

South Dakota Arts Council

National Endowment for the Arts

Contact the state coordinator Rosella Blunk (rosieblunk@yahoo.com)
if you would like to participate or learn more about this contest.

SD Poetry Out Loud Archives
2006 Poetry Out Loud

2007 Poetry Out Loud

2008 Poetry Out Loud

2009 Poetry Out Loud