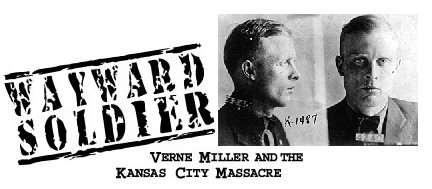 Verne Miller Time Line
· August 25, 1896 - Vernon Clate Miller born to Charles and Emma Miller. (This is the birth date used most often by Miller; he would also list June 1891 and February 1895 as other birthdates. He would also list South Dakota, Iowa, and Indiana as birthplaces, but Brad Smith suggests he was born in Iowa). Verne was one of five children born to the couple, who would later divorce. Verne was sent to South Dakota to live with his uncle Clarendon Miller, of the Pleasant Grove township in Brule County. Uncle Clarendon was a county commissioner, county treasurer, and Brule County Sheriff for several terms.
· Verne would leave his uncle's farm after finishing the fourth grade. Childhood playmates recalled him as happy and easy-going.
· 1913 - Miller is living in Minot, North Dakota. He convinces a recruiter that he's 21 instead of 16, and is enlisted in the North Dakota National Guard. The doctor notes that the young man is already missing the tip of his left hand's middle finger and describes a scar running along the left side of his head as a "grazing bullet wound".
· 1914 - After being honorably discharged after one year, Miller relocates to Huron, SD. He works as an auto mechanic and salesman for Guy Richard's Garage.
· June 1916 - Raids by famed Mexican rebel leader Pancho Villa leads to a mobilization of National Guard units along the Mexican border. The North Dakota unit is woefully short-changed of men, so a call is made to bring back former members. Come July 26th, Miller is back in uniform and with Company D stationed in Mercedes, TX. He receives extensive training in military drills, rifle practice, and forced marches.
· January 1917 - the 1st ND Infantry is sent from its camp and officially discharged from federal service a month later. Miller has been promoted to 1st Sergeant.
· April 6, 1917 - Congress declares war on Germany.
· June 7, 1917 - Verne Miller and Mildred Brown are married at Huron's Methodist Episcopal Church by the Reverend O.E. Boyce.
· July 15, 1917 - Verne Miller is called back into duty for World War I. He is promoted to Stable Sergeant the same day.
· September 29, 1917 - The 1st Regiment of the North Dakota National Guard is sent to Camp Greene in Charlotte, North Carolina. Six weeks later, the regiment is redesignated the 164th, and sent to Camp Mills in New York. But paperwork errors keep units with equine responsibilities in Newport News, Virginia. The problem would not be corrected for several months, and Miller and his colleagues receive no pay or recognition during the bungle.
· April 1918- Miller and his colleagues are finally dispatched to Europe. Miller is wounded twice, gassed once, and by his account, awarded the French Croix de Guerre for bravery. (Miller's full service record has been lost so these claims can neither be confirmed nor dismissed).
· October 1918 - Colonel Frank White recommends now Color Sergeant Verne Miller for an officers commission (see page 10 of Smith's book for account). The war ends before Miller can receive his commission.
· November 11, 1918 - hostilities cease on the Western Front.
· February/March 1919 - Miller is discharged, and upon his return home, is warmly received as a war hero.
· March 29, 1919 - Miller becomes a patrolman for Huron, SD.
· April 1919 - Milt Balsiger, owner of the Bijou Theater in Huron, books Canadian war hero R.E. Beckwith to speak on "War As It Really Exists". Balsiger is hoping to boost business as his own German heritage and thick German accent have caused him problems. But a dispute between the owner and guest over the speaker's fee causes Balsiger to strike Beckwith unconscious, and the public is outraged. A mob slathers the Bijou with yellow paint and demands Balsiger's surrender. Miller responds to the German's terrified call, and takes him into protective custody. A brick hits Balsiger in the head as he's taken away, causing Miller to whip out his pistol and confront the mob, which immediately disperses. Balsiger sells his business and leaves town within 24 hours.
· June 1919 - Miller throws local businessman W.S. Davis into jail, after Davis refuses to move his illegally-parked car in the street to take in a band concert. Despite Davis' case against Miller and his prominence in the community, the jury sides with Miller.
· June 28, 1919 - World War I officially ends with the Treaty of Versailles.
· August 1919 - Miller breaks up a con scheme in Rochester, MN by tailing the suspects and working with Rochester police.
· 1919 - Miller has helped found American Legion Post 7 in Huron, is a representative at the state convention, and is also an active member of the Kiwanis. He is also active in fishing and boxing, although lung-damage sustained during the Great War limits him to one and two-round exhibitions.
· October 10, 1919 - Congress enacts the Volstead Act, which prohibits the manufacture of, selling, distribution, and possession of alcohol.
· January 17, 1920 - America officially goes "dry", in accordance with the Volstead Act. The "Great Experiment" of Prohibition has begun.
· May 1920 - Miller announces his resignation from the Huron police force, citing dissatisfaction with Police Chief Tom Johnson's conduct of the department as the reason. He also carries the nomination of the Republican Party for sheriff of Beadle County, and is backed by The Evening Huronite (renamed The Daily Huronite in 1922).
· September 1920 - States Attorney Charles Warren charges Beadle County Sheriff Fred Anderson with misfeasance, malfeasance, and nonfeasance in office; and incompetence, misconduct, carelessness, and connivance. A grand jury finds the sheriff guilty of helping local gang members escape, assisting them in casing potential burglaries, and allowing his office to be used for extortion. Sheriff Anderson resigns to await trial on the charges and is replaced by interim sheriff, Deputy A.J. Larsen. These developments help Miller's campaign, indicating a need for reform and fresh blood.
· November 1920 - A whisper campaign suggesting Miller has worked with the same local gang narrows his lead over the Democratic candidate for Beadle County Sheriff, E.S. Brock. Miller wins by only 11 votes. Brock challenges the results and after numerous recounts and court battles, the matter is resolved by the end of December.
· January 4, 1921 - Miller is sworn in as sheriff of Beadle County.
· Winter-early Spring 1921 - Miller busts up at least ten stills in the county. Because of his proficiency, county officials begin using the seized moonshine liquor as anti-freeze.
· Summer-fall 1921 - A young traveler looking for harvesting work is shot and killed by Wobblies (members of the Industrial Workers of the World) while traveling outside of Wolsey. Miller organizes a manhunt for the killer and even goes undercover as a traveling hobo in the case. He arrests one man for attempted murder and a couple Scandinavian-born Wobblies, but never officially brings the killer to justice. In mid-August, Miller takes an unannounced trip to the South Dakota Badlands, saying the journey involved "a murder case". Following his return, nothing else is said or done regarding the incident. County residents assume Sheriff Miller had "taken care of things".
· 1922 - Miller has acquired a reputation as a fast and vigilant lawman, but critics claim he's also trigger-happy. On at least two occasions, Miller has fired warning shots at speeding tourists. He is not shy about voicing complaints against "joy riders" and people who don't use headlight dimmer switches. The Beadle County Commission warns Miller about the potential legal and liability problems of an "ever-ready trigger finger".
· March 1922 - Miller is overwhelmingly re-affirmed as the Republican Party candidate for sheriff in the primary.
· June 17, 1922 - Justice Hatfield accuses some of Miller's friends of running a moonshining operation with the sheriff's knowledge and protection. Miller acts on the accusations by raiding the still and arresting the operators. Several bottles of confiscated beer explode in his office.
· July 6, 1922 - Mildred Miller, Verne's wife, leaves Huron for Rochester to stay with an aunt who has taken ill. A week later, Mildred becomes seriously ill prompting Verne to rush to her bedside at the hospital.
· July 19, 1922 - Miller wires his office and informs his deputies that his wife's condition has improved, but he'll stay there for a few more days. He also announces plans to travel to Washington DC to visit the government sanitarium to have his gas-damaged lungs treated.
· July 27, 1922 - Mildred Miller is released from the Rochester hospital. Concerned deputies contact the DC sanitarium and learn Sheriff Miller never checked in. A review of the sheriff's accounting shows discrepancies.
· August 2, 1922 - State Sheriff John Shanks announces that Beadle County Sheriff Verne Miller is being sought on suspicion of embezzlement. The county records show $6000 missing from its coffers, with only $46.70 left. The county Republican party removes Miller's name from its slate of candidates.
· Late summer 1922 - A.J. Larsen is appointed Miller's successor and is then elected to the office in November.
· October 31, 1922 - State Sheriff John Shanks receives a phone call from a St. Paul hotel manager, informing him that Verne Miller is in the Twin Cities. Deputy Ed Glau is sent out to find and bring back the fugitive sheriff. Miller is found in the lobby with his bags, but surrenders without incident.
· January 1923 - With bond set at $10,000, Miller appears before Judge Alva Taylor and pleads not guilty to four counts of embezzlement.
· March 12, 1923 - After numerous delays, the case of The County of Beadle County v. Vernon C. Miller begins. Miller astonishes the court and press by approaching the bench and pleading guilty.
· April 3, 1923 - Miller is fined $5200 and sentenced to two to ten years in the South Dakota State Penitentiary in Sioux Falls.
· April 1923 - September 1924 - Verne Miller becomes inmate number 4240, and adapts readily to the regimens of prison life. Of the 280 prisoners, Miller is quickly viewed as a model inmate and becomes the warden's chauffeur. And despite States Attorney James McCoy's role in pressing for Miller's conviction, McCoy also endorses Miller personally because of the disgraced lawman's exemplary habits. Miller did not drink, gamble, or use snuff, and except for the embezzlement conviction, his record was unblemished. Miller serves 18 months of his two-year sentence before his release
· September - December 1924 - Miller is released on parole and works as a farmhand for Louis Meyers of Doland, SD. He earns $70 a month and leaves after fulfilling the conditions of his parole.
· June 6, 1925 - U.S. Marshals sweep through the Huron area, arresting a number of men indicted by a grand jury in Aberdeen for violating federal liquor laws. Miller is on the list. His father Charles and Uncle Clarendon arrive with him in Sioux Falls to turn himself in. Miller is cited for five counts of transporting and selling liquor. After Miller's uncle and father post the $1500 bail, he leaves the courthouse and fails to return for his sentencing in October. He is now believed to be living in St. Paul.
· 1926 - Vivian "Vi" Mathis sends a letter to the warden of the South Dakota Penetentiary informing him that she has obtained a legal divorce from her husband, Stanley Mathis, who was convicted in 1922 for first-degree murder. Vi, her daughter Betty, and her family, The Gibsons, leave their Leola, SD home for a dairy-farm near Brainerd. That same year, Vi works as a carnival concessionaire and meets Verne Miller where he helps her recover from a belligerent customer. The two begin a long and intimate relationship.
· June 1927 - The Farmers and Merchants Bank in Huron is robbed by six men. It's rumored that Verne Miller was the driver of the getaway car.
· 1926 - 1928 - Verne Miller sets himself up as a bootlegger, providing booze to the larger hotels and speakeasies across the Dakotas. He hooks up with Capone Syndicate contact Gus Winkeler, and the St. Paul to Chicago liquor run is even periodically undertaken by Miller's lover,Vi Mathis.
· February 3, 1928 - Miller operates in relative obscurity, until an altercation happens in the North Minneapolis cabaret of the Cotton Club. Two patrolmen get involved in a brawl started in part by Miller (see page 51 of Smiths' book) and are wounded by gunfire. Kid Cann and Bob Kennedy, Miller's partners, are indicted by a grand jury in the incident, but a failure of witnesses cause authorities to drop charges.
· February 6, 1928 - Miller's name is linked to the robbery of the Farmers State Bank in Good Thunder, MN. Cashier Mrs. W. Ulrich says two of the three robbers were "short and shabby", while the third was tall and well-dressed. Ulrich identifies the third suspect as Miller.
· 1929 - Miller is indicted for shooting at Prohibition agent Carl Olson. The Stock Market Crash of 1929 - coupled with the indictment - inspires Miller and Mathis to leave Minneapolis for Canada. There they open up a series of casinos in Montreal with New Jersey mobster Sammy Schrager. Schrager also introduces Miller to New York labor racketeer Louis "Lepke" Buchalter.
· Late Spring 1930 - Verne and Vi come back from Canada.
· The Chicago Crime Commission coins the term "Public Enemy" for the first time. The moniker eventually gains popularity among other agencies.
· May 31, 1930 - Machine-gun fire pours into the Manning Hotel, killing three men and wounding several party-goers. A witness sees five men run into a car and drive away. The incident is called the Fox Lake Massacre and is believed to have been done in retaliation for the murder/disappearance of Eugene "Red" McLaughlin, a friend of Verne Miller's. George "Machine Gun" Kelly would later explain that Miller organized the murderous outing because he believed the men eventually killed were responsible for McLaughlin's disappearance.
· June 1930 - Eugene "Red" McLaughlin's decomposing body surfaces in the wake of a tugboat churning its way up a Chicago canal. Despite 75 pounds' worth of weights and chains attached to his body.
· Miller returns from Chicago to find Minneapolis suffering the ravages of the Great Depression. The once-illustrious bootlegging industry has fallen apart. But St. Paul remains a haven for high-level gangsters, who have now turned their attention to bank robbery.
· The Holden-Keating gang is christened by the FBI, its members including Tommy Holden, Francis "Jimmy" Keating, Harvey Bailey (leader), and Verne Miller. Accomplices include Machine Gun Kelly and Frank "Jelly" Nash.
· July 15, 1930 - The Holden-Keating gang takes $140,000 from the bank in Willmar, MN. One gang member is killed and two locals are wounded.
· August 1930 - Miller and accomplice Harry Jaffa are indicted for firing at a local Prohibition agent who'd discovered one of their stills in the Robbinsdale, MN area.
· General W.F. Rhinow, director of Minnesota's Bureau of Criminal Apprehension, rides out with five fellow BCA officers at 11pm for a drive related to investigating the Willmar bank robbery. They come across the dead or dying figures of Sammy Stein, Mike Rusick, and Frank "Weanie" Coleman, all of Kansas City. All three have .45-caliber machine gun bullets in their heads. According to later testimony by Machine Gun Kelly, the killer was Verne Miller, who took out Stein because he double-crossed the Willmar gang, while Rusick and Coleman just happened to be friends of the doomed thug.
· September 9, 1930 - The Holden-Keating Gang rob the Ottumwa Savings Bank, using Larry and Eddie DeVol, Keating, Holden, and Miller. The job lands $30,000.
· October 19, 1930 - Leavenworth prisoner and small-scale hoodlum Frank "Jelly" Nash grabs The Complete Works of William Shakespeare from the penitentiary library and nonchalantly escapes. Nash and Miller would meet in St. Paul and become friends.
· April 8, 1931 - The Holden-Keating gang (Miller, Kelly, Harvey Bailey, Frank "Jelly" Nash) rob the Central State Bank in Sherman, TX, netting $40,000.
· Summer 1931 - The Bureau of Investigation list the Gibson Farm (Vi's family) outside of Brainerd as a suspected criminal hangout. When not frequenting St. Paul, Chicago, or Kansas City, Verne Miller and Vi Mathis would come here to spend time with relatives and to fish, dance, and enjoy the scenery.
· October 1931 - The Holden-Keating gang (with Charley Harmon and Frank Webber) rob the Kraft State Bank in Menomonie, WI, but an alarm is sounded and Webber is shot by a resident's bullet. 21-year-old Sam Kraft, a cashier, is taken hostage. Vigilantes pursue the robbers, and come across the discarded bodies of Webber, Harmon, and the hostage Kraft. Rumor has it that Harmon was killed by Verne Miller either because Harmon killed the young bank employee or he was inept. The job landed $100,000 for the surviving members of the gang.
· Miller and Mathis live in or around Chicago, where he orders monogrammed shirts under the alias, "V.C. Manion". They also travel to New York to visit Lepke Buchalter and Sammy Schrager.
· Spring 1932 - Tommy Holden, Jimmy Keating, and Harvey Bailey are arrested on a golf course in Kansas City by Bureau agents. Holden and Keating are returned to Leavenworth to serve their full sentences for a previous bank-robbery; Bailey is found with a bank bond for another robbery and taken in. (A fourth gangster, Bernard "Big Phil Courtney" Phillips was also on the course but wasn't seen by the agents. Rumor has it that Phillips set the other three men up and his "disappearance" a few months later was arranged by a vengeful Miller).
· September 1932 - Verne visits his father Charles and his six half-brothers and half-sisters at a new farm in White Lake, SD. The town residents and relatives are dazzled by Verne's large new car and monogrammed silk-shirts. It is the last time the elder Miller would see his son alive.
· December 16, 1932 - Miller hooks up with Alvin "Creepy" Karpis, Freddy and Arthur Barker, and Keating-Holden alumni Larry DeVol, Jess Doyle, and Bill Weaver to hit the Third Northwestern National bank in Minneapolis. The scheme goes poorly and nets a relatively poor $22,000. Two cops and a bystander are killed.
· Christmas Day/New Year's Eve 1932-33: Verne and Vi party with the Nashes.
· April 1, 1933 - Miller and Mathis rent a house in an up-scale part of Kansas City (6612 Edgevale Road), under the name V.C. Moore.
· April 4, 1933 - The Barker-Karpis gang attempt to rob a bank in Fairbury, NE. Miller keeps out of it. Eight citizens are wounded in the robbery, and robber Earl Christman is critically wounded and brought to Miller's home. He dies two days later.
· June 1933 - Frank "Jelly" Nash and his wife, Frances, kick back in Hot Springs, AK despite Verne Miller's warnings that the place was "hot" for a federal fugitive.
· June 16, 1933 - Nash is taken into custody by three federal lawmen while checking on horse races at the White Front cigar store. Bureau agents Joe Lackey and Frank Smith of the Oklahoma City office, and McAlester police chief Otto Reed take Nash to Ft. Smith, AK, to catch the night train for Kansas City.
· Miller eventually learns of Nash' arrest and vows to rescue him from custody. Miller turns to Kansas City mob-boss Johnny Lazia, who pairs him with Charles "Pretty Boy" Floyd and Adam Richetti, who have just arrived in town, fleeing the law. The three men case the Union Station layout before going to Miller's house.
· June 17, 1933 - The rescue attempt of Nash goes horribly wrong - Nash is killed in a melee of gunfire, as are Kansas City police officers Bill Grooms and Frank Hermanson. McAlester police chief Otto Reed, and Kansas City FBI Agent Ray Caffrey are also killed by bullets. Agent Lackey receives three bullets in his spine but survives; Agent Reed Vetterli is wounded slightly; only Agent Frank Smith is unscathed.
· (Accounts are varied as to whom exactly participated in the shooting, but Miller is unanimously identified as one of the gunmen).
· June 18-22 - Miller and Mathis leave their Kansas City home; after being rebuked by Winkeler and other Chicago contacts, Mathis leaves for Brainerd, while Miller departs for New York.
· July 1933 - Vi Mathis travels with the Buchalters across the eastern seaboard.
· July 22, 1933 - Machine Gun Kelly and Albert Bates kidnap Oklahoma millionaire Charles Urschel, releasing him a week later after receiving $200,000 ransom.
· August 1933 - Al "Silvers" Silverman is contacted by Miller, and agrees to help him lay low. Under the new alias of "Stephen J. Gross", Miller is given a 1933 Ford V-8 Sedan, and is given optical supplies to help him pose as a traveling eyeglass salesman. On August 13, Miller checks in under his new pseudonym at the Greenbriar Hotel in White Sulphur Springs, West Virginia.
· September 26, 1933 - Verne Miller's name hits the top of the "most wanted" list by the FBI following the capture and arrest of Machine Gun Kelly in Memphis.
· October 1933 - After several months of playing golf, Miller decides to escape federal heat by going to Europe. Al Silvers approaches Abraham Chait to help Miller apply for a fake driver's license (page 141-143). On October 23rd, Under the new guise of "Frederick J. Glaubach", Miller picks up a 1932 Ford V-8 Coupe and hits the road.
· October 31, 1933 - Miller arrives in Chicago to visit Vi Mathis at the Sherone Hotel. The FBI is already in place at the hotel, waiting for him. Doris Rogers and Ed Notesteen, both Huron residents, are there to positively identify Miller.
· November 1, 1933 - Through a series of miscalculations, the FBI loses Miller as they spring their trap. Despite the exchange of gunfire between Miller and the lawmen, no one is seriously hurt. Mathis and another friend, Bobbie Moore, are soon taken into custody. Neither the women nor the FBI will see Miller alive again.
· November 6, 1933 - Al Silvers, Abraham Chait, and Herman Borenstein (who took the driver's test for Miller for the fake ID) are arraigned in federal court in New York on conspiracy charges. Everyone but Silvers is taken in. Silvers' wife says she doesn't know where her husband is.
· November 20, 1933 - Al Silvers is found beaten and strangled to death outside of Somers, CT. His nude, trussed-up body is wrapped in a cheap auto robe.
· November 28, 1933 - Bureau agents call upon Miller acquaintance Lepke Buchalter. When asked if Miller might be bumped off within 30 days, Buchalter replies, "Let me look into that".
· November 29, 1933 - Vivian Mathis and Bobbie Moore appear in a Chicago federal court before Judge James H. Wilkerson. Each would plead guilty and serve one year and one day for aiding and abetting a fugitive.
· Verne Miller's nude, trussed-up, and beaten body is found on the outskirts of Detroit by motorist Vernon Northrup. The corpse was wrapped in a cheap Saxton auto robe. Police confirm the identification with fingerprints, particularly noting Miller's missing tip on his left hand middle finger.
· Detroit Homicide Officials note that three gang-related killings had happened within a week's time before the discovery of Miller's body.
· December 5, 1933 - Prohibition is repealed.
· December 6, 1933 - After managing to secure the shipment of Miller's body from Detroit, a funeral service is held with Miller's relatives, friends, and members of American Legion Post No. 7 in the town of White Lake, SD. The Reverend F.E. Lochridge presiding. The body is then carried in a cheap, flag-draped casket inside a hearse back to Huron, a seventy-five mile trip.
· September 18, 1934 - Vi Mathis is released three months before her year-long sentence is finished. She is immediately detained by FBI agents and interrogated over a twelve-day period about her knowledge of the Kansas City Massacre and other information about her lover, Verne Miller. Chicago Agent Sam McKee drives a confession from Mathis after reportedly holding smoldering cigarettes against her arms. After her release, she spends seven months recuperating from her burns which have become infected.
· October 1934 - Miller's alleged accomplices, Adam Richetti and Pretty Boy Floyd, are discovered in Ohio by state authorities. Richetti is captured, Floyd is killed in the chase by state and federal agents.
· 1934 - Congress passes the Omnibus Crime Bill granting J. Edgar Hoover's agents all the powers necessary to form what is the modern-day FBI, most notably the ability to arrest people across state lines and the ability to carry firearms. Hoover had largely used the public outrage from the Kansas City Massacre to make his case for the legislation.
· 1935 - Vi Mathis moves to Sioux Falls and works in Bob Kennedy's Blackstone Hotel. She becomes a problem-drinker and falls out of touch with her family.
· July 1,1935 - The Bureau of Investigation officially becomes the Federal Bureau of Investigation (FBI).
· 1941 - Vi Mathis marries Bob Kennedy. Their relationship is reportedly difficult and abusive.
· June 19, 1944 - Vi checks into a local hospital suffering from undisclosed complaints. She dies a week later at the age of 38. The official cause of death is listed as tuberculosis of the lungs, but family members suggest she died from repeated physical abuse likely from her husband.
· June 29, 1944 - Vivian Gibson Mathis Kennedy is buried at Mt. Pleasant Cemetery in Sioux Falls.